GOVERNING BOARD AND DEANS
With Buddha Dharma University, you have a truly gifted set of knowledgeable professors. Although ours is a Zen seminary stemming from both Korean and Vietnamese lineages, many of our instructors have also trained in other traditions. The Dharma (truth) is as it is, regardless of the name or style. It is worth noting that our professors donate their time and talents, both to keep your expenses low and to be of service to the world.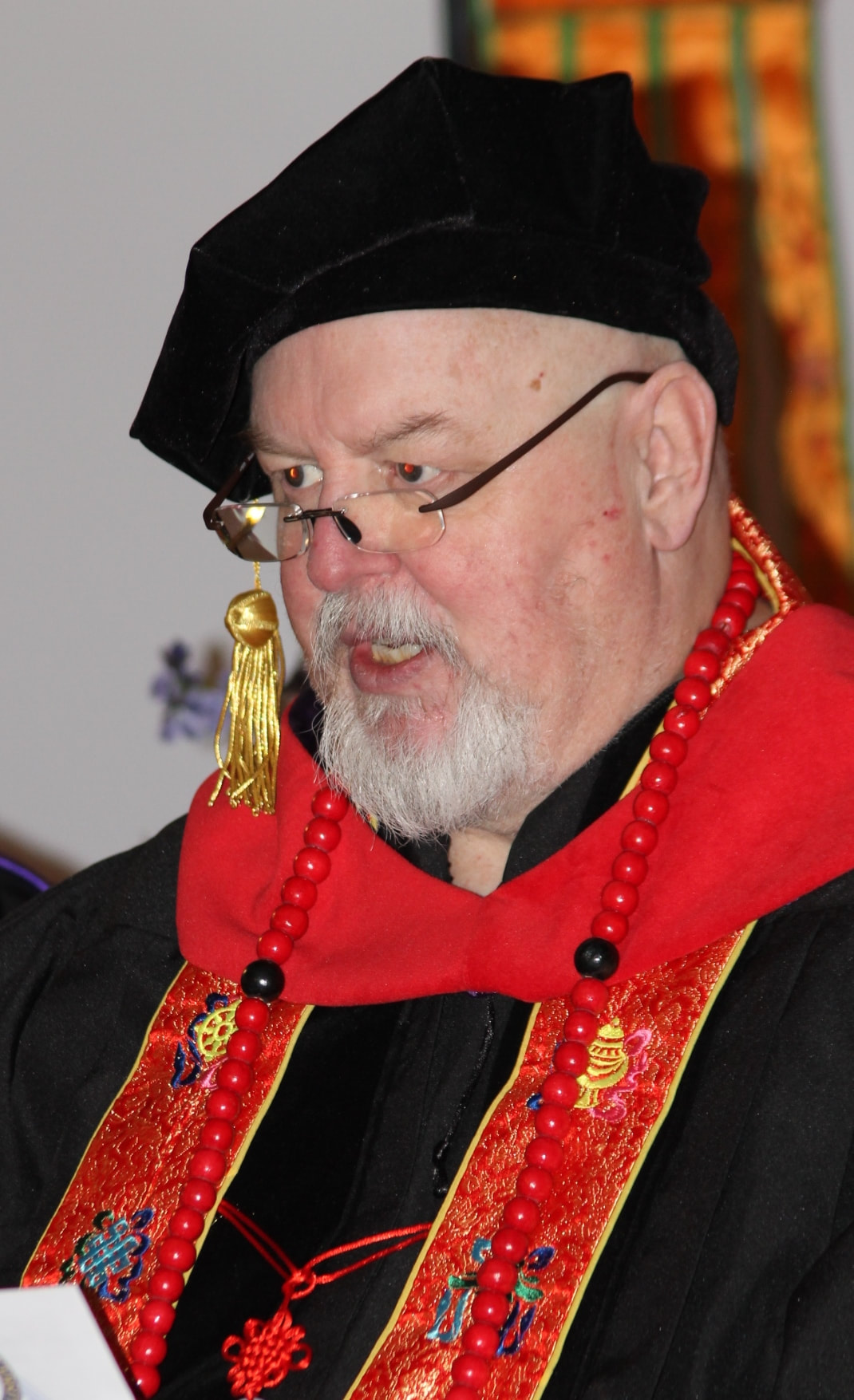 Ven. Wonji Dharma, DMin is the Founder of the Five Mountain Zen Order and the President / Chancellor of Buddha Dharma University. He is a fully ordained Bhiksu, having taken the Dharmagupta Vinaya precepts with H.T. Thich An Duc (Ven. Dr. Suhita Dharma).
Soensanim began practicing Advaita Vedānta as well as Vipassana Meditation in 1986 with Swami Chaitanya Siraj and took refuge vows with his teacher that same year. Swami Chaitanya Siraj had studied in an Indian Ashram for many years and his path of teaching was wide and open to all of the Wisdom Traditions. Soensanim's direction has been informed by Zen since his college days of studying Psychology. Wanting to experience the direct experience of koan study he eventually discovered Zen Master Seung Sahn and the Kwan Um School of Zen in 1989 and began practicing regularly at Dharma Zen Center in Los Angeles.
Throwing himself headlong into Zen practice for five years he received sanction and encouragement from Zen Master Seung Sahn to open the Huntington Beach Zen Center on August 14, 1993, where Soensanim was installed as Abbot by Zen Master Seung Sahn.
Soensanim was ordained by Zen Master Seung Sahn as a Dharma teacher in 1995 and received teaching authorization from Zen Master Ji Bong, (an independent heir of Zen Master Seung Sahn), in April, 2006. Having obtained a BA in Psychology from California State University, he earned his Masters (M.Div) and Doctorate (D.Min) degrees from BSI-LA before becoming a primary staff member. Ven. Dr. Wonji has practiced with more than thirty different Zen Buddhist masters during his time and maintains an eclectic approach to Buddhist Teachings and spirituality in general.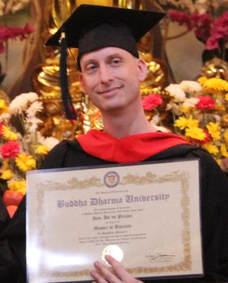 Ven. Do'an Prajna, MDiv, is the Vice President and Dean of Academics as well as a Professor of Buddhist Studies. He is also the Chief Abbot of Five Mountain Zen and the Head Teacher and Abbot of Lotus Heart Zen in Oneida, NY. In 2002 he took five precepts at the Providence Zen Center, part of the Kwan Um School of Zen in the lineage of Zen Master Seung Sahn. Do'an then practiced under the instruction of the late Myoji Seunim, JDPS, Abbot of the Jogyesa Zen Temple of New York in New York City. He assisted her with various temple related activities, such as teaching "Sunday" school to the temple youth, participating in Buddhist ceremonies, performing as Moktak leader and acting as temple office assistant. In 2003 he traveled to South Korea with Myoji Sunim visiting temples throughout Korea and attending the World is a Single Flower conference. One of the highlights of his trip was having the opportunity to sit with Zen Master Seung Sahn.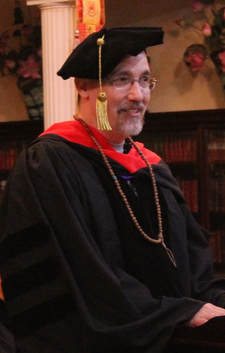 Ven. Geungsan Dharma, PsyD, is the Vice Chancellor for East-West Integration and Professor of Buddhist Studies. Archbishop Geungsan ordained in 1991 as a priest in Japanese Tendai Buddhism where he received extensive teachings on sutra and tantra and has been fortunate enough to be able to practice these teachings in everyday life. Geungsan Dharma began practicing with Ven. Dr. Wonji Dharma in 2008. He runs a private psychology and consultation practice in Cincinnati, Ohio (www.psych-insights.com), and is core faculty in the PsyD Program in Clinical Psychology at Union Institute & University. He is also Clinical/Research faculty at the UC Center for Integrative Health and Wellness, and Volunteer Associate Professor of Psychiatry & Behavioral Neurosciences at the UC College of Medicine.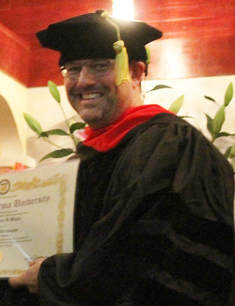 Ven. Hwasahn Prajna, D.Min, LAc, is Vice President of Healing Arts and one of the Co-Founders of Five Mountain. He also serves as the Guiding Teacher of the Mountain Gate Zen Center in Berkeley, California.
​Professionally, Archbishop Hwasahn is a practitioner of Oriental medicine (L.Ac.) and is a teacher of Chinese martial arts and Daoist Yoga. He is certified in Tien Tao Chi Kung and has over the years studied with various Qi Gong masters. He has served as a college teacher of both acupuncture anatomy and herb pharmacology & Chinese nutrition.
In 2009, Abp. Hwasahn founded Turning Point of Berkeley California, an institute dedicated to bringing the wisdom of Asian mind-body healing techniques to the public.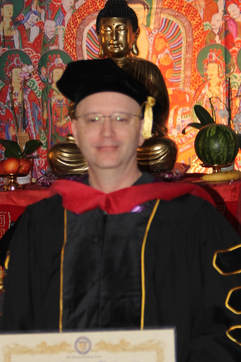 Ven. Cheolsoeng Prajna, MDiv, PhD, is the Provost and Professor of Buddhist Studies. A monk in the Five Mountain Zen Order, he is also a professor of psychology at Iowa State University. His primary scholarly work as a developmental psychologist has examined the positive and negative effects of media on children and adolescents. Some of his more recent research focuses on contemplative science, such as the effects of mindfulness and compassion training on happiness.
​He is a Fellow of both the Association for Psychological Science and the American Psychological Association, and was named one of the top 300 professors in the United States by the Princeton Review. His particular interest is in the intersection of Buddhist philosophy and Western psychological science.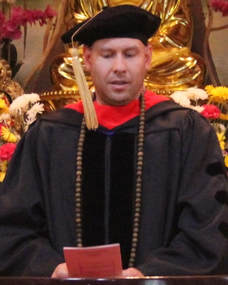 Ven. Cheongryang Dharma, PsyD, DMin, is the Dean of Buddhist Psychology and Professor of Buddhist Studies. Ven. Cheongryang is an Archbishop in the Five Mountain Zen Order, and is a licensed psychologist in the state of Ohio. He attended Case Western Reserve University, receiving his Bachelor's degree (B.A.) in Psychology. He received a master's degree in Clinical and Counseling Psychology (M.A.) from Cleveland State University, and his doctorate in Clinical Psychology (Psy.D.) from the School of Professional Psychology at Wright State University in Dayton, Ohio.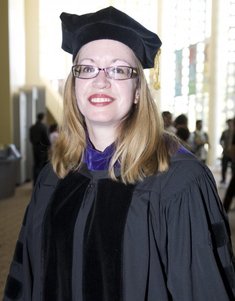 Ven. Dr. Jabo Prajna, MDiv, JD, is the Dean of Buddhist Ministry and Professor of Buddhist Studies and a Bodhisattva monk in the Five Mountain Zen Order. She began studying Theravâda Buddhism in 1998, adding Zen with the Kwan Um School and later with the Golden Wind Zen Group in 2003, and Tibetan Buddhism in 2008. She currently practices in both the Zen and Tibetan traditions. She began to study Zen with Ven. Wonji Dharma in 2003 when he was abbot of Ocean Eyes Zen Center. Additionally, Ven. Jabo has taken Refuge Vows and Bodhisattva Vows with Tibetan guru Lama Tsultrim Allione of Tara Mandala in Colorado. She attends extended retreat with Lama Tsultim yearly, studying the inner depths of Vajrayana Buddhism.
Ven. Jabo is also a Reiki Master who practices at Reiki from the Heart in Claremont, California. Additionally, she earned a J.D. from Western State College of Law at Argosy University. She is now retired from teaching and administering as a Law Professor and is a full-time priest.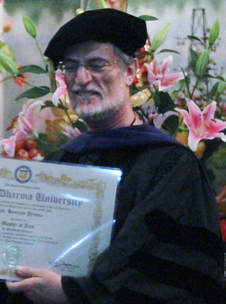 Ven. Hyoenjin Prajna, MDiv, PhD, is Dean of the BDU Mexican Extension and Professor of Buddhist Studies. He is originally from Kansas City, Missouri and has lived in Guadalajara, Mexico since 2000. He is the Regional Abbot (Mexico) for Five Mountain Zen and the Abbot of Meditación Budista Zen in Guadalajara, Jalisco, Mexico. He was a student at the Prajna Institute for Buddhist Studies and initially trained with Myogak, Sabunim. Additionally, he received ordination of Rev. Master Meiten McGuire, M.O.B.C. in 2007 in the tradition of Soto Zen.
​
He holds a doctorate in East-West Psychology (comparative religions and transpersonal psychology) from the California Institute of Integral Studies with a focus on Eastern spirituality and meditation techniques involving over 40 years of ongoing investigative research. He is fluent in English and Spanish.